Court Revocation vs Suspension by North Carolina DMV – What Are the Different Types of License Suspensions
Drivers License issues, especially those involving DWI Impaired Driving, can be quite complicated – Danny Glover
What are some common reasons for a driver's license revocation by DMV?
DWI/DUI
Refusal of blood or breath test
Excessive Speeding
Acquiring too many points on one's Driver's license

What offenses will the DMV suspend my license?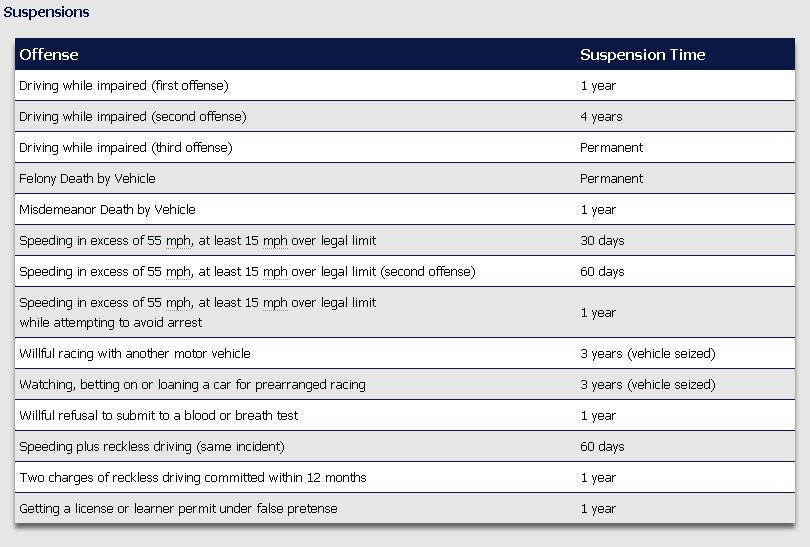 How is a DMV hearing different than a Court trial for DWI?
DMV hearing issues:
Not as Formal
Normally takes place at DMV Office
Hearing Officer, Not Judge
Relaxed rules of Evidence and Admissibility of Materials
Limited Appellate Rights / Procedures
For what reasons would the Court suspend my license?
DWI Impaired Driving
Certain Traffic Offenses
Failure to pay child support
Non-Compliance – Subpoena

Paternity Establishment Proceedings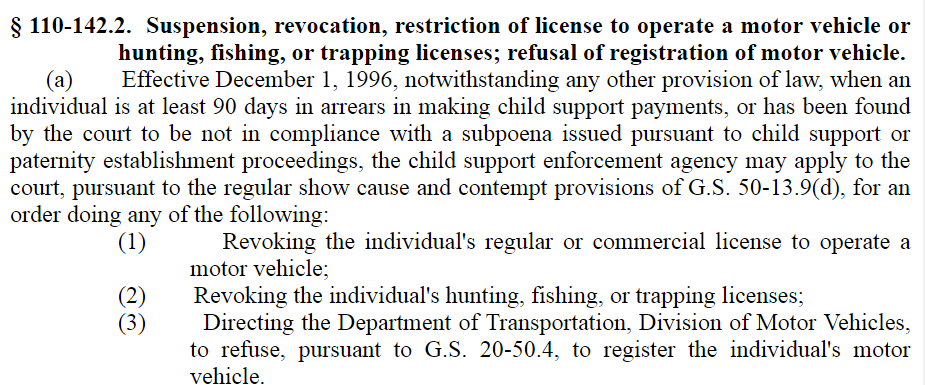 Modified Transcript of "What Are the Different Types of License Suspensions" for the Hearing Impaired
If you are convicted of a DWI or certain other driving offenses, the judge, as a condition of your sentence, may order that you not operate a motor vehicle in the states or highways of North Carolina.
That judgment of the court is then put into a computer system, a state-wide computer system that is shared with DMV, and then DMV is notified of certain convictions that you get.
The Judge normally sets forth the terms and conditions on what is called a Judgment and Commitment.  They normally advise the accused, in "open court," the sentence and conditions of imposition of the Judgment.  That is true both in District Court and Superior Court.
The Clerk thereafter sends notice of the Court's Order to the North Carolina Department of Transportation / Division of Motor Vehicles.  The DMV may then also send written notification of suspension or revocation.
Convictions of offenses, especially during a period of revocation or suspension, may result in the imposition of an additional period of revocation by the North Carolina DMV.
DMV has its own set of rules and regulations where they will automatically impose DMV revocations or that DMV will refuse to issue you a new license for a certain period, depending on whether you have been convicted of one of those qualifying offenses.
It is important to understand, one can be suspended administratively by the Department of Transportation / Division of Motor Vehicles.  The Court or Judge also has the ability, in certain circumstances, to Order a motorist not to drive.
The laws relating to Impaired Driving, License Revocation, DWLR Driving While License Revoked, NOL No Operator's License can get complicated.  It makes sense to talk with an experienced attorney to determine what options, if any, you may have.
Danny Glover is a past President of the North Carolina Advocates for Justice
He is available for confidential consultation
It is my goal to help people through difficult times with care and compassion – Danny Glover 
Danny Glover is an experienced attorney.  He handles both civil and criminal matters.   Danny's Civil caseload involves things like car wrecks and truck accidents.  Criminal matters include allegations of DWI DUI Impaired Driving, Larceny, Assault and Drug Offenses.
Civil Matters:
"Personal Injury" type cases involve making claims for damages.  "Damages" may include restitution for losses incurred as result of being in a wreck and include, but are not limited to things like:
Property Damage
Repairs to Vehicle
Rental Car
Personal Injuries – Doctor's Bills, Medical Diagnosis and Treatment, Testing, Prescriptions, Medications, Surgery, Physical Therapy
Permanent Injuries, Loss of Mobility,
Disfigurement, Pain and Suffering
Loss of Wages
Lost Earnings and Capacity to Work
Criminal and Traffic Defense Lawyer:
Danny Glover helps people with a wide range of legals issues that arise from something as simple as the issuance of a Traffic Ticket, to something complex like Felony Death by Motor Vehicle:
Murder
Voluntary Manslaughter
Involuntary Manslaughter
Robbery
Breaking and Entering
Larceny
Possession of Drugs
Possession of Drug Paraphernalia
PWISD Possession with Intent to Sell Deliver
Trafficking
Possession of Alcohol
Underage Consumption
Shoplifting
Unlawful Concealment
Open Container
Driving While License Revoked
Driving While Impaired DWI BUI
Boating While Impaired
Speeding
No Operators License
Lane Violations
Following Too Closely
Stop Sign Red Light Violations
Reckless Driving
Speed Competitions and Racing
Trespassing
Assault
Assault on Female
Assault on Child
Assault Inflicting Injury
Assault on Government Personnel AOG
Resisting Obstructing Arrest Law Enforcement
Communicating Threats
Misuse 911 System
Assault by Strangulation
Intoxicated and Disruptive
Felony
Misdemeanor
Death by Motor Vehicle
DMV – Department of Transportation / Division of Motor Vehicles
Danny Glover also helps people with DMV Administrative Law issues such as:
Ignition Interlock Violations
Limited Privileges
DMV Revocation Hearings
Division of Motor Vehicles Restoration Hearings
Suspensions
License Restorations
North Court of Appeals – Appellate Law
Attorney Danny Glover also has experience handling Appeals in North Carolina, which may include:
Entering Notice of Appeal
Obtaining Transcript of Proceedings
Preparing and Filing a Record on Appeal
Drafting Appellate Arguments and Responsive Pleadings
For More Information on "What Are the Different Types of License Suspensions" please call Danny Glover for a confidential consultation.