Who is legally liable for accident injuries?
Who's at fault means, "Who caused the wreck?" under NC accident laws.
Sometimes more than one person can cause the wreck, sometimes 100% of the fault rests on one driver.
Determining who is legally liable for accident injuries in North Carolina requires careful review of the documentation of the wreck scene and causes of the NC accident case.
Establishing legal "liability" is one of the more important aspects of any personal injury law case in North Carolina.  That's because under the wreck laws of the state, there is something called contributory negligence.
Looking at who caused the wreck and who is responsible is one of my most important jobs as a car accident lawyer in North Carolina – Danny Glover 
Important considerations in NC wrecks cases:
How fast were the vehicles traveling?
Was anyone going above the posted speed limit?
What were the roadway conditions?
What were the weather conditions?
Who had right-of-way?
Were there proper stopping distances?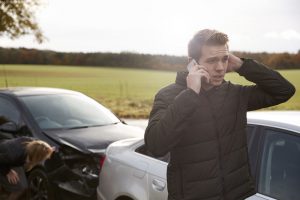 What should I do after a car accident in North Carolina?
Being involved in a serious collision is a big deal.  As a law office that helps people in northeastern North Carolina with car wrecks, motorcycle injuries, and semi-truck collisions, we understand the trauma associated with an MVA or Motor Vehicle Accident.
After a wreck, people can respond differently.  One of the more common emotions or reactions after almost any type of accident is disbelief.  They "just can't believe" he ran that light or failed to stop.  We hear things like, "I looked right at her.  She saw me.  I don't know how she didn't slow down."
Car accidents in North Carolina are generally not caused by people acting intentionally.  They involve things like negligence, the failure to maintain proper lane control, and careless or reckless driving.
The vast majority of personal injury cases in NC happen because the at fault motorist was not paying attention or failed to act responsibility.  That almost always means someone was breaking the law when they hit you.
How people respond after an NC car wreck depends a lot on what happened on the scene.  If you or your passengers were hurt, that may complicate things too.
The first thing to do is to make sure nothing worse happens.  We call that securing the accident scene.  Get people out of harm's way.  Once you are certain everyone is safe, if that's even possible after a car wreck, then begin collecting evidence of the wreck – Danny Glover
So in North Carolina, the at fault driver and that driver's insurance company are responsible to pay all of the damages, harms, and losses suffered by anyone hurt by that at fault drivers negligence or carelessness.
So when we talk about liability, we mean, who was responsible to pay the injured person or the injured people as a result of the wreck?
How do I protect my injury claims after a North Carolina car wreck? 
First, make sure someone has called 911 and reported the accident.  That is especially true if there are injuries involved after the NC car wreck.  Once that has been done, and after making sure everyone is OK, start collecting information if you are able.
Sometimes all that is possible is exchanging information; but, we recommend the following for the best results:
Take our your phone and start taking pictures
Video the scene
Snap a shot of the other person's documentation

North Carolina Driver's License
Insurance Card
NC vehicle registration

Ask other people involved in the wreck what happened

Get their information
Take a picture of their driver's license
Record what they tell you
I'm Danny Glover, with the Glover Law Firm in Elizabeth City.
If you have any questions about your car wreck, give me a call, it's completely free, it's confidential, and I'll be happy to talk.
Call Now for Free Consultation 252-299-5300
1705C